Be honest, be serious.
The only thing We are trying to do
is to serve good food.

Thought of the Founder
We are committed to making rice cakes and confections with our ingenuity and creativity.
1948. Chuichi Endo, with his wife, Kin, and other family members, founded the Endo Mochi Shop in Katahira, in the heart of Sendai City. He opened his business with the hope of "serving delicious food to those who were wounded in the war," but soon after the war, there were no sufficient supplies, so he had a lot of trouble. Through repeated trial and error, we have developed a lot of originality and ingenuity, and now we handle rice cakes, daifuku, dandelions and suiyokan. Until just before he passed away in 2004, he demonstrated a vigorous spirit of development, devising new recipes to please customers even when he was ill. "To make delicious rice cakes with sincerity and sincerity, without thinking of making a profit. We are dedicated to making safe and delicious confections with a commitment to "making the real thing with good ingredients". This spirit has been firmly carried on to the present day.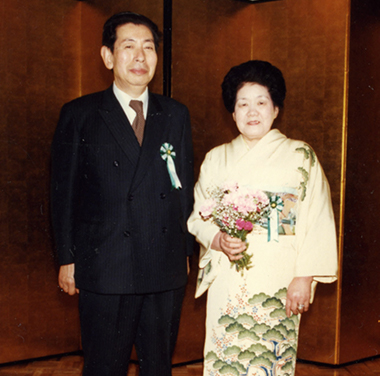 He was born in Watari-cho, Miyagi Prefecture in 1919. After working as a high school teacher, he founded the company at the age of 29 in 1948 in Katahira, in the heart of Sendai City. In 1952, it moved to Miyamachi, near Sendai Toshogu Shrine. Until his death in 2004, he was stubborn and devoted to Japanese sweets.